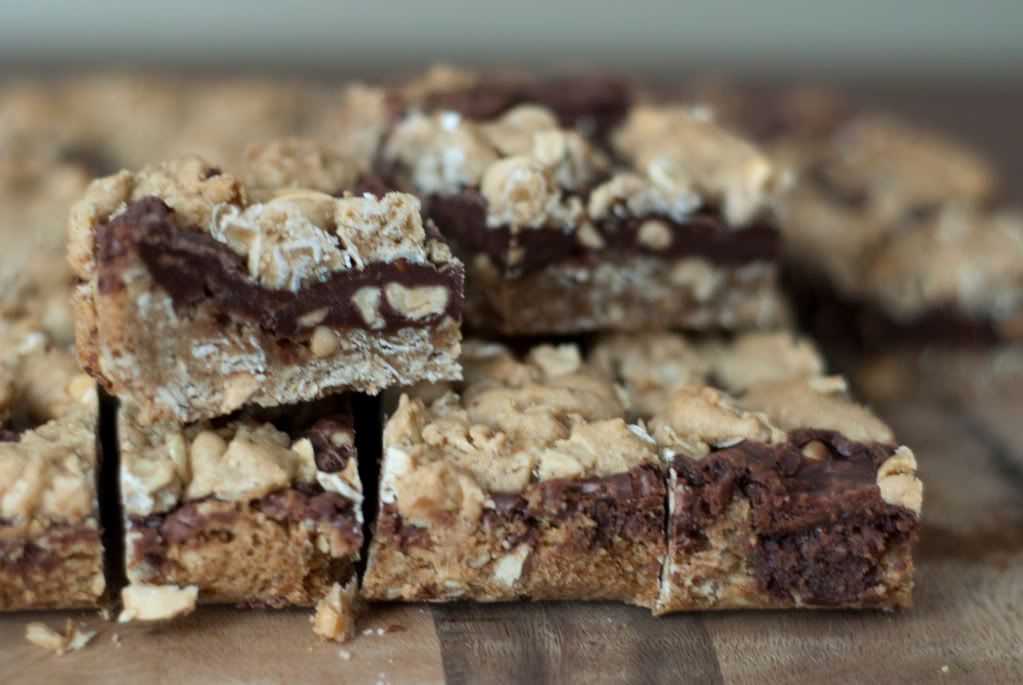 from
Confectiona's Realm
and
A Hint of Honey
Ingredients
for oatmeal layer:
2½ cups all-purpose flour
1 tsp. baking soda
1 tsp. salt
½ tsp. ground cinnamon
2 sticks (8 ounces) unsalted butter, at room temperature
2 cups (packed) brown sugar
2 large eggs
2 ½ tsp. pure vanilla extract
3 cups old-fashioned (rolled) oats
1 cup salted peanuts, coarsely chopped
chocolate layer:
14-ounce can sweetened condensed milk
2 cups (12 ounces) semi-sweet chocolate chips
2 tsp. unsalted butter
¼ tsp.salt
1 tsp. pure vanilla extract
¾ cup coarsely chopped salted peanuts
Directions
1. Preheat oven to 350 degrees Fahrenheit. Grease a 9 x 13" baking pan.
2. For the oatmeal layer, in a medium bowl, whisk together the flour, baking soda, salt and cinnamon. In a large bowl, beat the butter with an electric mixer on medium speed until soft and creamy. Add the brown sugar and beat for 2 minutes. Add the eggs, one at a time, beating for a minute after each addition. Add the vanilla and beat until light and fluffy. Reduce the speed to low and slowly add the dry ingredients, mixing until just combined. Stir in the oats and peanuts on low or by hand. Set aside 2 cups of the mixture. Press the remaining into the bottom of the prepared baking dish.
3. To make the chocolate layer, use a double boiler or set a heat-proof bowl over a saucepan filled with simmering water (make sure the bottom of the bowl doesn't touch the water). Combine the chocolate chips, sweetened condensed milk, butter, and salt in the bowl, and stir occasionally until melted. Remove from the heat and stir in the vanilla and peanuts. Pour the warm chocolate mixture over the oatmeal crust. Scatter chunks of the remaining oatmeal mixture over the top, it will not be even.
4. Bake in preheated oven for 25-30 minutes, until the top is golden brown and the chocolate layer appears dull and is starting to pull away from the sides of the pan. Cool for 2 hours on a baking rack. Run a dull knife around the sides of the pan to loosen and invert the pan onto a baking sheet or cutting board. Turn right side up and refrigerate 1 hour before slicing.
Makes approximately 32 bars (4 x 8)
Try at all different temperatures: chilled from the fridge, straight from the freezer (cut into smaller slivers), or room temperature. They will keep about 4 days at room temperature, a week in the refrigerator, or up to two months in the freezer.