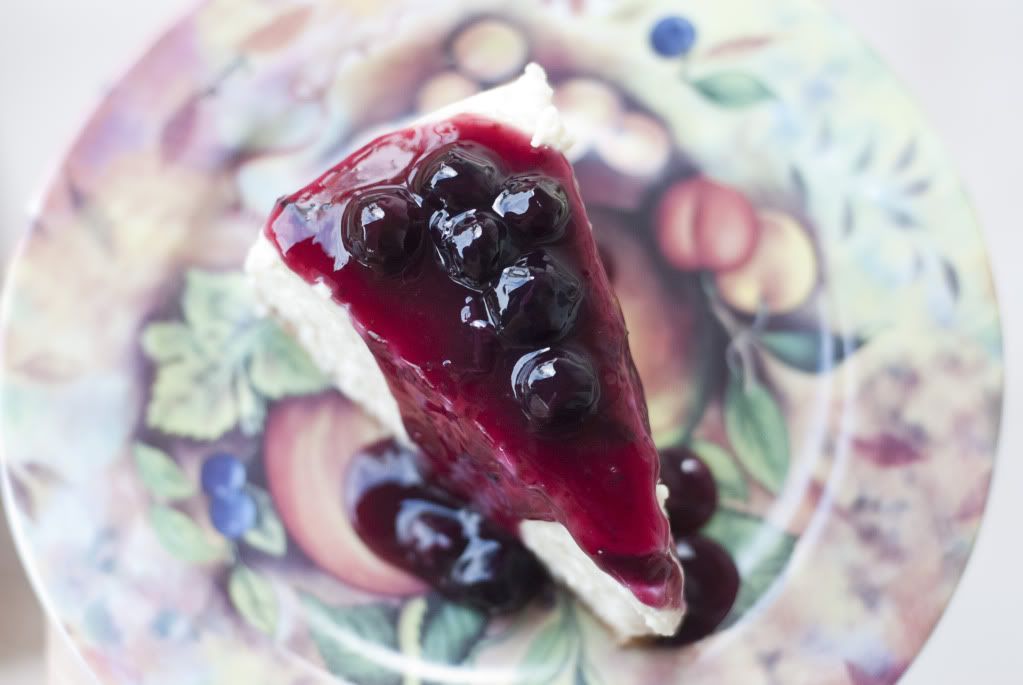 Nick requested this cheesecake- one that we enjoyed when he turned 26 and again when he turned 27. It is something great to make a day/night ahead.
I found myself doing 'two-a-days' with this cheesecake. Not the 'two-a-days' from cross country in high school where we ran in the morning and the afternoon. No, no, this is way better- having a slice of cheesecake after lunch and another later in the evening. I much prefer twice the cheesecake to twice the running.
Blueberry Cheesecake
cheesecake from All Recipes
blueberry sauce from All Recipes
crust
15 graham crackers, crushed (1 1/2 cups)
1/4 cup melted butter
1/2 tsp. cinnamon
1/4 tsp. nutmeg
1/4 cup sugar
cheesecake
4 (8oz) cream cheese, room temperature
1 1/2 cup white sugar
3/4 cup milk
4 eggs, room temperature
1 cup sour cream
1 Tbsp. vanilla
1/4 cup flour
topping
2 cups fresh or frozen blueberries
1/4 cup water
1 cup orange juice
3/4 cup white sugar
1/4 cup cold water
2-3 Tbsp. cornstarch
1/2 tsp. almond extract
1/8 tsp. ground cinnamon
Directions
1. Preheat oven to 325 degrees. Prepare a water bath by placing a large baking dish with 1" of water in the oven. To make cheesecake, grease bottom and sides of a 9" spring form pan. Wrap outside of pan with two layers of foil.
2. In a medium bowl, mix graham cracker crumbs with melted butter, spices, and sugar. Press onto bottom of the pan.
3. In a large bowl, mix cream cheese with sugar just until smooth. Be careful not to over beat. Switch to a wooden spoon and blend in milk and eggs (one at a time), mixing just enough to incorporate. Mix in sour cream, vanilla, and flour til smooth. Pour over the crust.
4. Place pan in 1" water bath. Bake in the oven for 1 hour. Turn oven off- allow cheesecake to cool in the oven for 2-6 hours with the door closed. Remove from oven and chill in fridge until serving.
5. To prepare sauce, in a saucepan over medium-high heat combine blueberries, water, orange juice, and sugar. Stir and bring to a boil. In a small cup or bowl, mix cornstarch and 1/4 cup cold water. Gently stir cornstarch mix into blueberries. Simmer gently until thick enough to coat the back of a metal spoon (3-4 min). Remove from heat and stir extract & cinnamon. Thin with water, if needed.
Serve cheesecake with blueberry topping. And eat twice a day.
{if you're not into blueberries, this cheesecake is completely lovely naked}