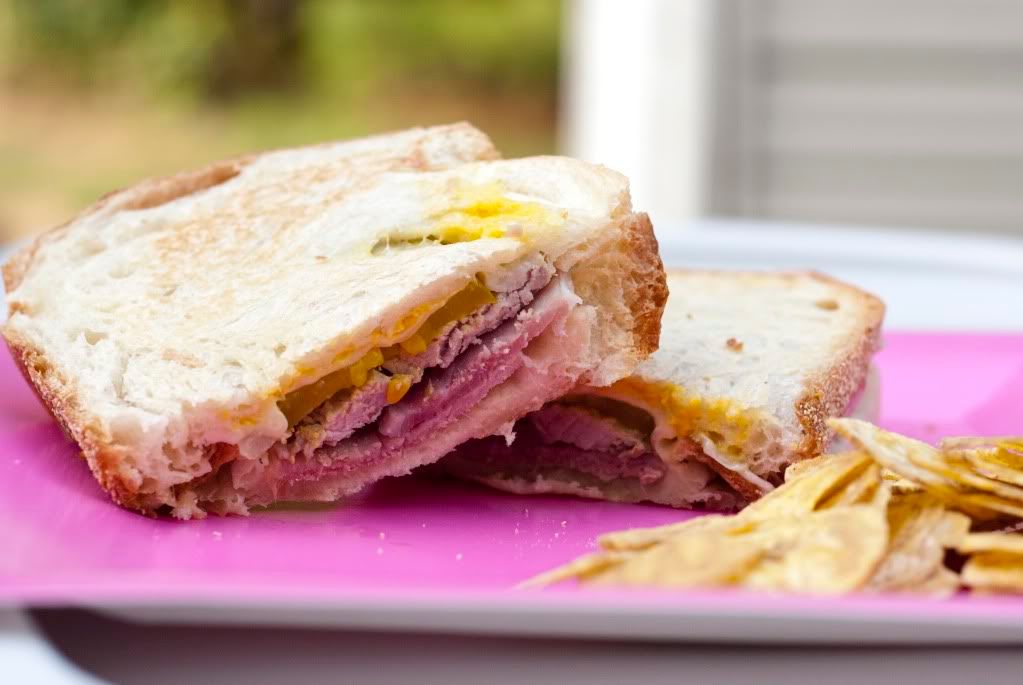 Ingredients
pork roast {see recipe below}
sweet cured ham (thick slice)
dill pickles
Swiss cheese (baby Swiss)
Cuban bread (can use Italian or French, but do not use a baguette)
yellow mustard
Layer ingredients on bread. Grill on lightly greased sandwich press.
Enjoy with mariquitas (plantain chips)!
Cuban Pork
Ingredients
5 lb pork shoulder roast or pork tenderloin
Mojo:
10-12 garlic cloves
1 tsp. salt
1 tsp. black peppercorns
1 cup sour orange juice- if not available---1/2 cup fresh orange juice, 1/4 cup fresh lime juice &
1/4 cup fresh lemon juice
1-2 tsp. oregano
1 cup minced onion
1/2 cup olive oil
1. Using a mortar and pestle or a food processor
crush the garlic, salt, and peppercorns into a thick paste. In a mixing bowl, combine garlic paste with sour orange juice, onion, and oregano. Let sit at room temperature for 30 minutes or longer.
2. In a small saucepan, heat olive oil til very hot. Remove from heat and carefully whisk in garlic-orange juice mixture. (It can splatter). Allow to cool.
3. Pierce pork several times with the tip of a knife. Cover with mojo and allow to marinate for several hours, up to overnight, turning every few hours. Bake at 325 for 1 hour 1/2- 2 hours, basting with juices throughout.