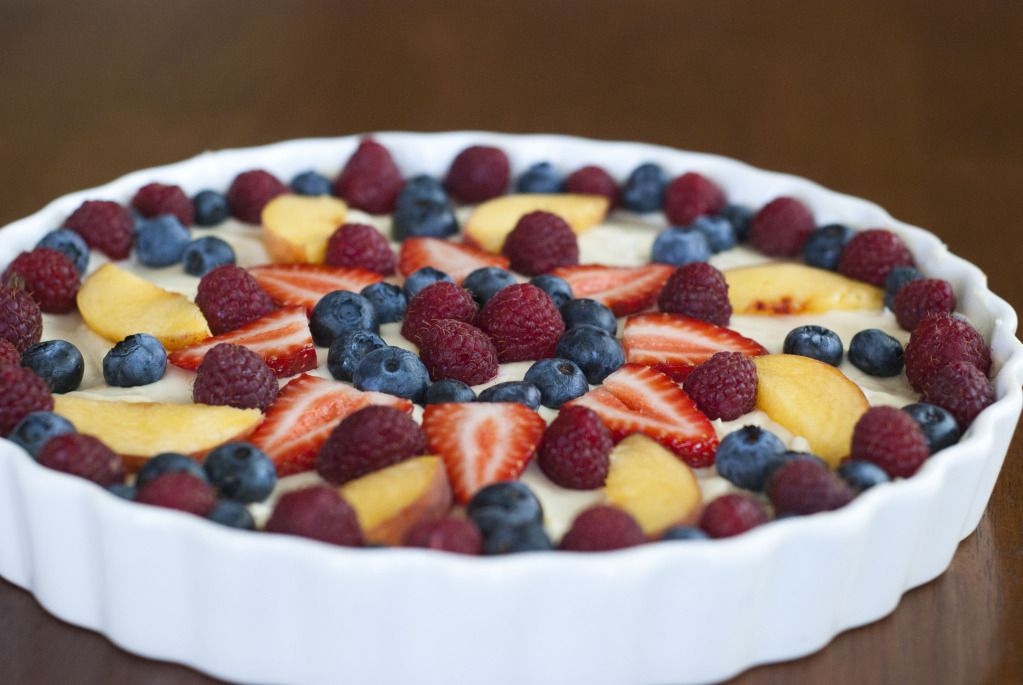 Siena's birthday cake...she only ate the fruit.
Ingredients
Crust
8 tablespoons (1 stick) unsalted butter, softened
1/2 cup granulated sugar
1/4 cup light brown sugar
1 large egg
1 tsp.vanilla extract
1/4 tsp. almond extract
1 1/4 cup all purpose flour
1/2 tsp. baking powder
1/4 tsp. salt
Spread
1 (8 ounce) package cream cheese, softened
3/4 cup confectioners' sugar
1 1/2 teaspoons vanilla extract
1/2 teaspoon lemon zest
Fresh Fruit
1 cup raspberries
1 cup blueberries
1 cup kiwi, sliced (omitted this time)
1 cup peaches, sliced
1 cup strawberries, sliced
Directions
1. In a medium bowl, mix together the flour, baking powder, and salt. In a large mixing bowl cream together the butter and sugars until smooth. Add the egg, vanilla, and almond extract and mix until just incorporated. Slowly incorporate the flour mixture into the creamed butter and mix until blended. Remove dough from bowl and press into a greased 10 inch tart pan or pizza pan.
2. Bake

at 325

for 10 to 12 minutes, or until the edges just start to brown. Remove from oven and let cool on a cooling rack.
3. In a large mixing bowl, beat the cream cheese, sugar, vanilla, and lemon zest until smooth. Spread evenly on the cooled crust.
Arrange fresh fruit in desired pattern on top of filling and chill until ready to slice and serve.
slightly adapted from Kelsey's Kitchen