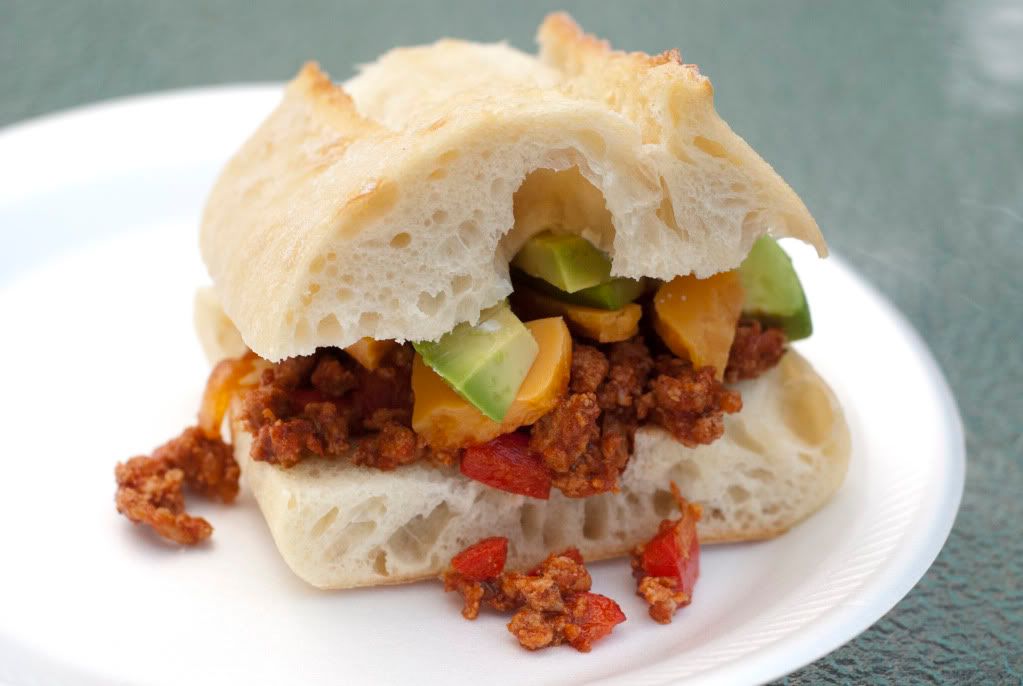 from
Real Simple: Meals Made Easy
Ingredients
1 Tbsp. olive oil
1 small yellow onion, finely chopped
1 clove garlic, minced
1 red bell pepper, finely chopped
1 lb ground turkey (could use ground beef)
1 6-ounce can tomato paste
1 1/2 tsp. chili powder
1 tsp. ground cumin
1/8 tsp. black pepper
1/8 tsp. ground cinnamon
1 tsp. kosher salt
ciabatta rolls or wheat hamburger buns, toasted (enough for 4-6 people)
1/2 cup grated sharp Cheddar cheese
1/2 cup sour cream
1 Avocado, sliced (optional, but delicious)
Sliced Jalapenos (optional)
Directions
1. Heat oil in large saucepan over medium heat. Add onion, garlic and bell pepper. Cook until softened, about 3 min. Add turkey and cook, crumbling with spoon, about 7 min. Stir in the tomato paste, chili powder, cumin, black pepper, cinnamon and salt. Simmer, stirring occasionally, until the sauce thickens slightly, about 12 min.
2. Spoon the mixture onto the bottom half of each bun and top with the cheese, avocado slices, a dollop of sour cream.

Serves 4 - 6 people.