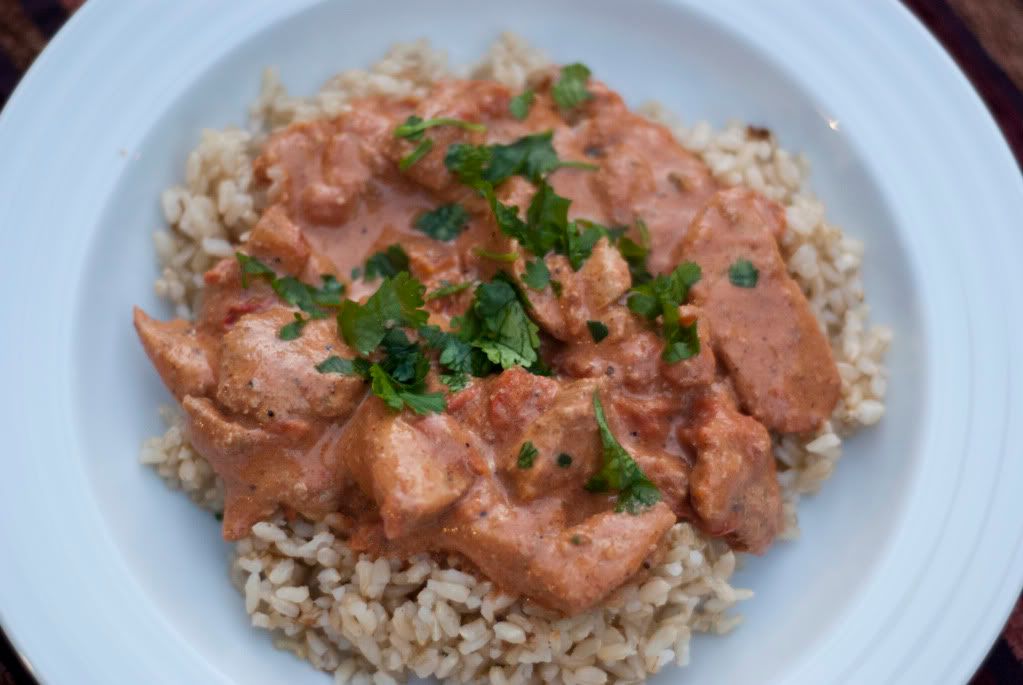 from
Hint of Honey
&
Mrs. Harding Cooks
Ingredients
Marinade
1 cup plain nonfat Greek yogurt
1 Tbsp. freshly squeezed lemon juice
2 tsp. ground cumin
1 tsp. ground cinnamon
1/4 tsp. cayenne pepper (up to 2 tsp. for more heat)
2 tsp. freshly ground black pepper
1 Tbsp. minced fresh ginger
1 tsp. salt
1 tsp. garam masala
3 large boneless skinless chicken breast halves, cut into bite-size pieces
Sauce
2 Tbsp. butter
4 cloves garlic, minced
1 jalapeno pepper, diced (leave seeds in for more heat, choose a rounded one for less)
1 tsp. ground cumin
2 tsp. paprika
2 tsp. garam masala (can find at Whole Foods or World Market)
1 (16-oz.) can tomato sauce
1 cup heavy cream (or half and half)
1 (14-oz.) can diced or crushed tomatoes
1/4 cup chopped fresh cilantro, for garnish
Directions
1. In a large bowl, combine marinade ingredients: yogurt, lemon juice, cumin, cinnamon, cayenne, black pepper, garam masala, ginger, and salt. Stir in chicken, cover, and refrigerate for at least several hours or overnight.
2. Grill chicken (can be done on skewers if cut into pieces). If grilling is not available, cook chicken in a frying pan.
3. Melt butter in a large heavy skillet over medium heat. Saute garlic and jalapeno for 1 minute. Season with cumin, paprika, and garam masala. Stir in tomato sauce, diced tomatoes and cream. Simmer on low heat until sauce thickens, about 20 minutes. Add grilled chicken, and simmer for 10 minutes. Garnish with fresh cilantro. Serve with brown rice and naan.
Serves 4-6.