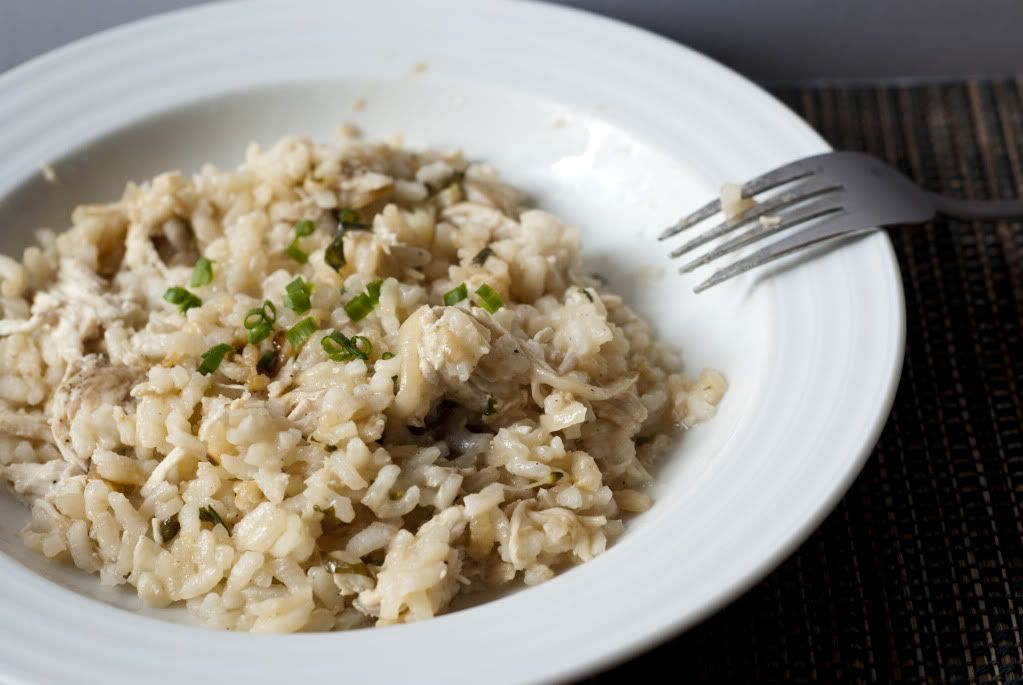 adapted from
All Recipes
&
Annie's Eats
After seeing a clip on Food Network of risotto, I really wanted to try it out. When I tried this recipe I made the chicken, but I think next time I will opt for a rotisserie which will make it a little quicker- so if you want the directions for preparing the chicken try out the link from Annie's Eats. This went really well with some steamed broccoli.
Ingredients
1½ tbsp. olive oil, divided
1 yellow onion, thinly sliced
Pinch of sugar
5 cups low-sodium chicken broth
4 tbsp. unsalted butter, divided
¾ tsp. salt
2 cloves garlic, minced or pressed
1 1/2 cups Arborio (medium grain) rice
3/4 cup dry white wine
2 oz. grated Parmesan cheese (about 1 cup)
1 tsp. freshly squeezed lemon juice
2 tbsp. minced fresh parsley
2 tbsp. minced fresh chives
freshly ground black pepper
Directions

1. Add 1½ teaspoons of the olive oil to a large skillet over medium heat. Add the sliced onion and sugar, stirring to coat. Allow the onion to cook, stirring occasionally, until deep golden brown and caramelized. Remove the onions to a plate and set aside.
2. In the same skillet add 2 tablespoons of the butter set over medium heat. Once melted, add the garlic and cook just until fragrant, about 30 seconds. Add the rice to the pan, stirring to coat. Cook, stirring frequently, until the grains are translucent around the edges, about 3 minutes.
Add the wine and cook, stirring constantly, until fully absorbed, about 2-3 minutes. Add 1/2 cup of broth to the rice, and stir until the broth is absorbed. Continue adding 1/2 cup at at time, stirring continuously, until the liquid is absorbed and the rice is al dente, about 20-25 minutes.
3. Meanwhile, shred rotisserie chicken into bite-sized pieces. Stir in shredded chicken and caramelized onions into the risotto with Parmesan, the remaining butter, lemon juice, parsley and chives. Season with salt and pepper, to taste. If desired, add up to ½ cup of the remaining broth mixture to add moisture and loosen the texture.