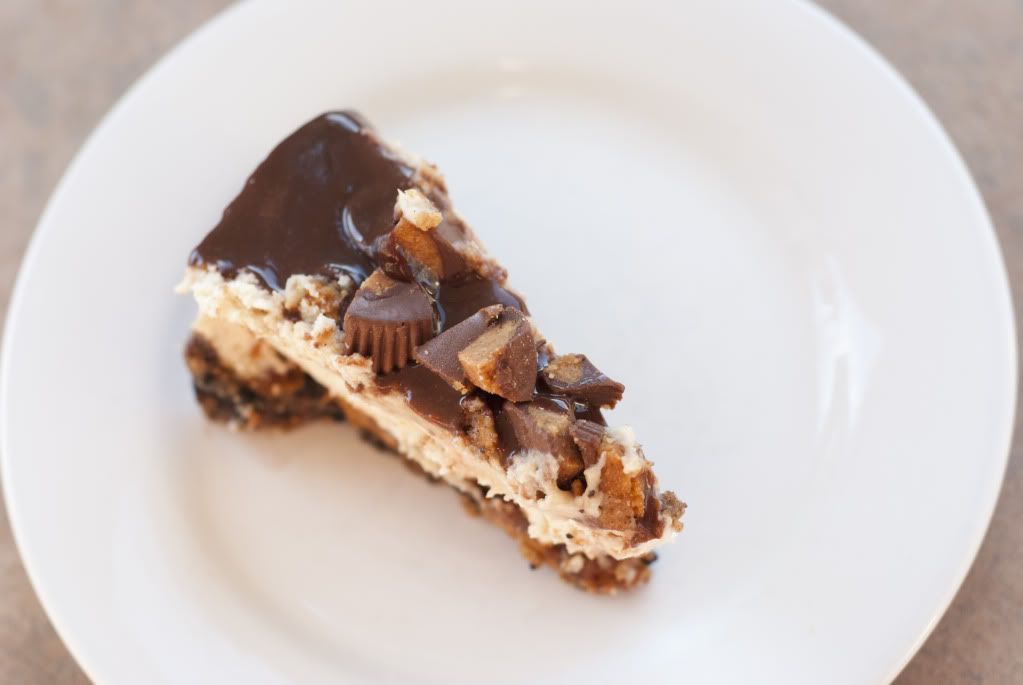 Is it too close to Halloween to post something like this? At the end of September my sister-in-law requested a peanut butter chocolate cheesecake for her bridal shower. This was incredibly rich, but it was just that- incredible. I did manage to cut a piece to save for Nick to eat the next day, and being the nice husband that he is he took a few bites and let me eat the rest. He tried to play it off like he was too full, but a few days later I got it out of him that he really just knew how much I wanted it so he let me finish it off. What a guy.
Ingredients
crust
1 1/4 cups graham cracker crumbs
1/4 cup sugar
1/4 cup crushed cream-filled cookies
6 Tbsp butter, melted
Reese's & Butterfingers, crushed (optional)
3/4-1 cup creamy peanut butter, slightly melted
cheesecake filling
3 (8 oz.) cream cheese, room temperature
1 cup + 2 Tbsp. sugar
1/2 cup milk
3 eggs, room temperature
3/4 cup sour cream
3/4 cup creamy peanut butter
1 Tbsp. vanilla
2-3 Tbsp. flour
toppings
melted hot fudge
additional Reese's cups cut into pieces
Directions
1. Preheat oven to 325 degrees. Prepare a water bath by placing a large baking dish with 1" of water in the oven. To make cheesecake, grease bottom and sides of a 9" spring form pan. Wrap outside of pan with two layers of foil.
2. To prepare the crust, in a medium bowl combine graham cracker crumbs, sugar, crushed cookies, and butter. Press onto greased spring-form pan. Add optional layer of Reese's and Butterfingers. Add layer of melted peanut butter.
3. In a large bowl, mix cream cheese with sugar just until smooth. Be careful not to over beat. Switch to a wooden spoon and blend in milk and eggs (one at a time), mixing just enough to incorporate. Mix in sour cream, peanut butter, vanilla, and flour til smooth. Pour over the crust.
4. Place pan in 1" water bath. Bake in the oven for 1 hour. Turn oven off- allow cheesecake to cool in the oven for 1-6 hours with the door closed. Remove from oven and chill in fridge until serving.