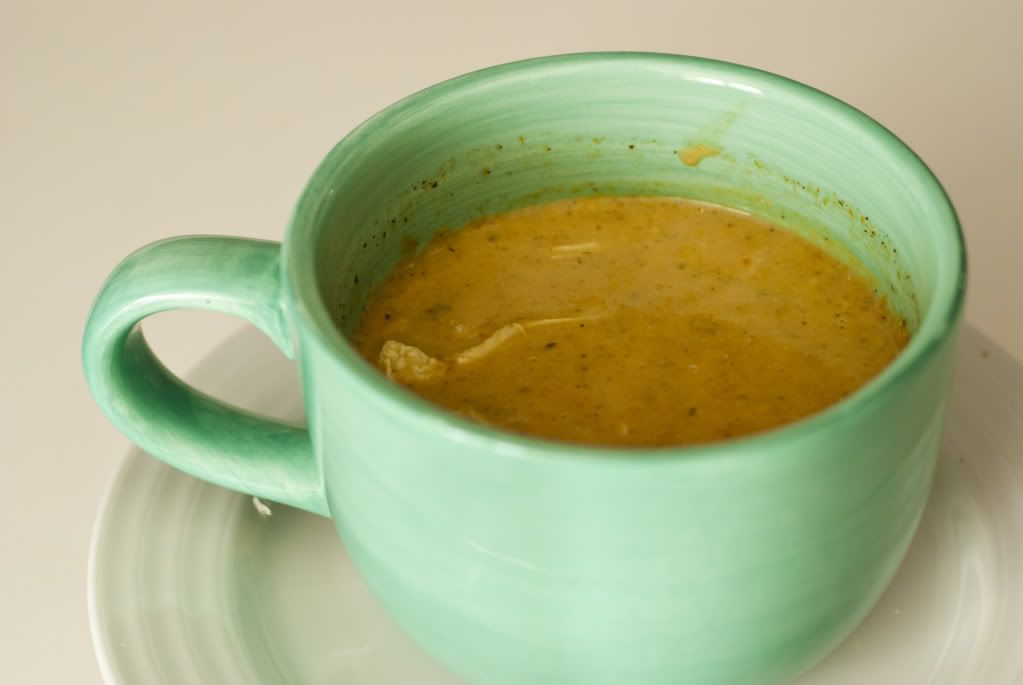 originally from San Antonio Express-News, seen on Perry's Plate
Also known as the "Seinfeld soup" which is how I convinced Nick to try it- he couldn't deny it was pretty darn good.
Ingredients
6 Tbsp butter
2 small yellow onions, peeled and diced
2 medium carrots, peeled and diced
2 stalks celery, diced
1 green or red bell pepper, cored, seeded, and diced
1/2 cup flour
1 T good quality curry powder
1/2 tsp nutmeg
6 whole cloves (or 1/2 tsp ground)
4 sprigs parsley (or 2 tsp dried)
2 quarts chicken broth
2 tsp salt
1/4 tsp pepper
2 cups chopped tomatoes (or one can diced/whole tomatoes, undrained)
2 cups cooked chicken, chopped or shredded
1 cup heavy cream or half and half
2 cups cooked brown or wild rice
Directions
1. Melt the butter in a large, heavy soup pot over medium-high heat (I used my 7 qt, but I had plenty of room). Add onions, carrots, celery and bell pepper; cook, stirring frequently until onions are soft and clear. Stir in the flour, curry powder, nutmeg, and cloves and cook for a minute or so. Add the chicken broth, parsley, salt, pepper, and tomatoes. Bring to a boil, reduce heat to medium-low and simmer, covered, for about an hour.
2. Blend soup with an immersion or stick blender (or transfer to a blender in batches and puree) until completely smooth. If using whole cloves, remove before blending.
Stir in the chicken, cream, and rice; heat through before serving.
Serves 8.