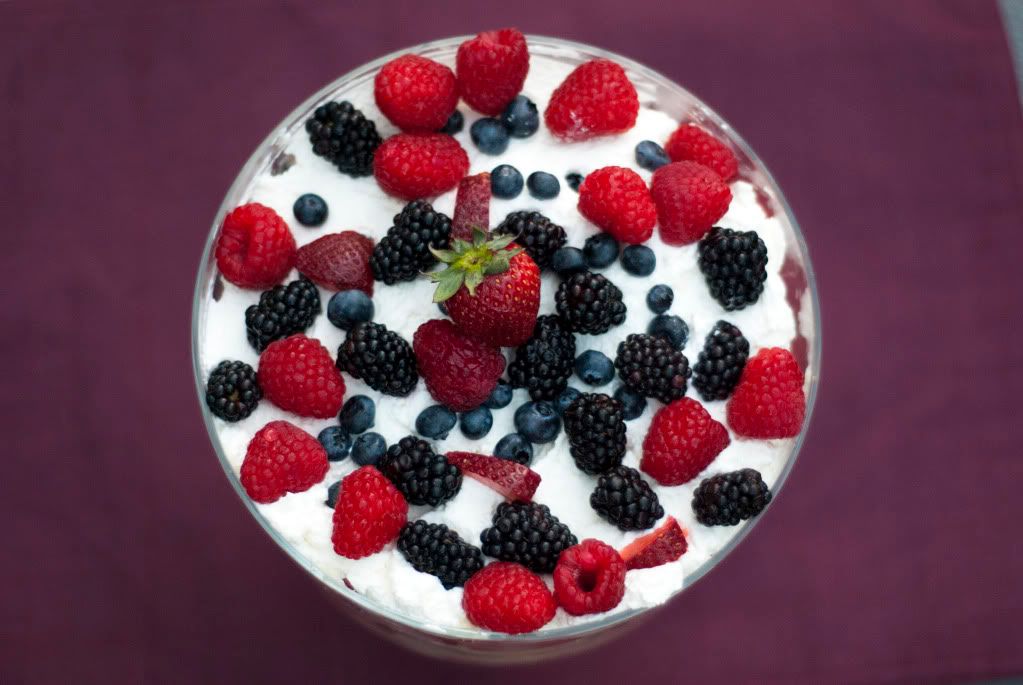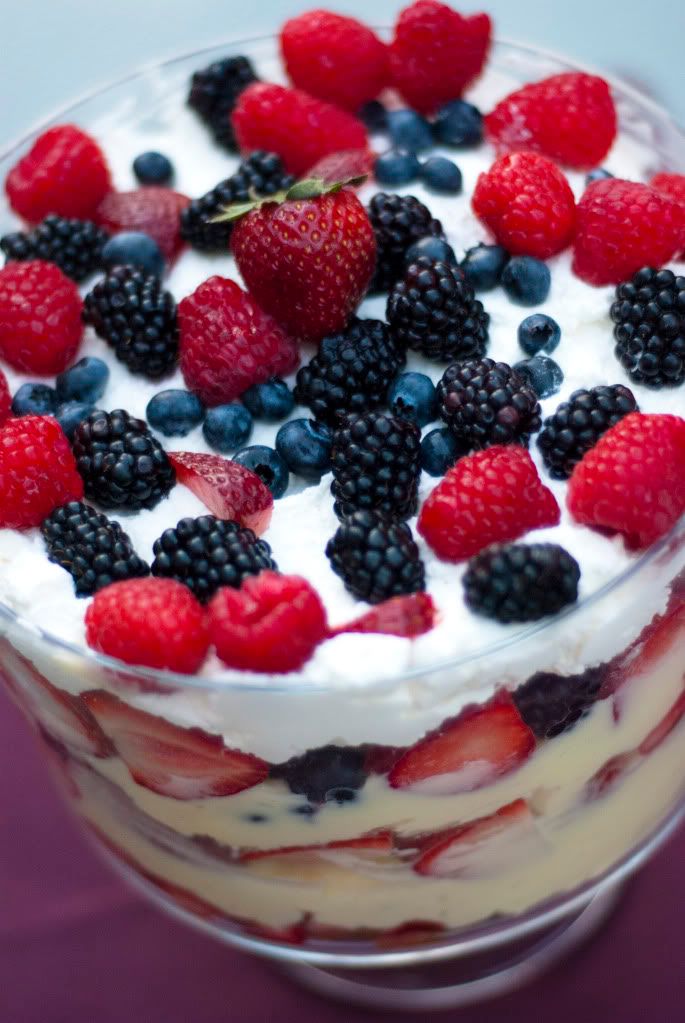 adapted from
Whole Living
Ingredients
Pastry Cream:
2 cups whole milk
1 cup heavy cream
pinch of kosher salt
1 tsp. vanilla extract
1/2 cup cornstarch
1 cup sugar
4 large eggs
1 stick unsalted butter, cut into pieces
Trifle:
2-3 pints strawberries, hulled and sliced
1/2 cup sugar
pinch of salt
pound cake
, cut into slices
mixed berries (blueberries, raspberries, blackberries)
1 cup heavy cream + 1 tsp. sugar
Directions




Pastry Cream


1. In a medium saucepan, combine milk, cream, salt, and vanilla bean. Bring to just under a boil. In a second bowl, whisk together cornstarch and sugar, then whisk in eggs. Add a ladle of hot liquid to egg mixture, whisking constantly. Repeat twice, then whisk egg mixture into remaining milk mixture in pot.


2. Cook over medium heat, whisking constantly until bubbling and thick, about 2 minutes. Whisk in butter. Place plastic wrap directly onto surface of cream and refrigerate until chilled, at least 2 hours and up to overnight. Whisk to loosen before using.


Assemble the trifle
1. Mash a third to a half of the strawberries with 1/2 cup sugar and salt to macerate berries.
Allow to sit for up to 30 minutes.

2. Layer pound cake in bottom of a 14-cup (5-by-7-inch) trifle dish or bowl. Spread a layer of macerated berries over top, then pastry cream and additional strawberry halves with whole berries. Repeat layering up to twice more. Can eat immediately, but the trifle tastes best if refrigerated several hours or overnight.


3. Whip heavy cream to medium peaks with 1 tablespoon sugar and spoon over top. Garnish with fresh berries.